Archive for April, 2005
Don't worry, gang! No one really died yesterday! Ah, well… none of the people named below, at least. A large, informative AFD '05 post will be coming online tomorrow- watch this spot for further details!
EDIT – Here's that post I promised! The Full AFD '05 Story. It's a long read, and a good one- enjoy!
Sorry that I haven't made more main page posts lately, Elite. And unfortunately, THIS post is being made only to pass along some very sad news. I'm sure most of you have heard about the big Goldeneye meeting being held in Minnesota during Spring Break this week, but what you may not have heard about is just how quickly the meeting has taken a turn for the worst.
From what I've been able to gather so far, and granted, the details are still somewhat sketchy, it appears that Bosshardt and Bcks picked up Wouter at St. Paul International Airport this afternoon. But they then, for some reason, left the airport in a limo that had been reserved for someone named "O' Brien." As I said, we're still not sure exactly what took place, but it would appear that our three friends were attacked and brutally beaten by an unruly mob only moments after reaching their destination. All three were rushed to a local hospital, but I've just received word that Brandon was pronounced dead on arrival. Needless to say, this is a very sad moment for the Elite community. I know it's not much, but I created a small tribute to our friend Bcks, one of the nicest players to ever grace the Elite.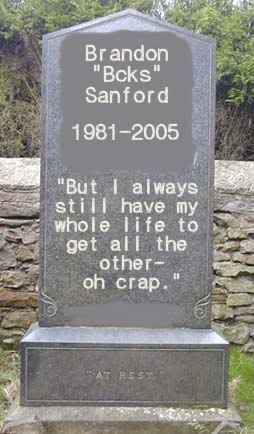 Please keep Bryan and Wouter in your thoughts tonight.
EDIT – Oh no… I hate to be the one to tell you this, but I've just received word from another member of the Goldeneye meeting, Dan Cervone, that Bryan Bosshardt also passed away while in the ambulance. Just before he died, Bryan revealed to Dan the location of his will. I'm being told that Bryan's parents have already gone ahead and inscribed their beloved son's last wishes on a headstone.
Bryan Bosshardt, generous even in death. Wait a minute… NOOOOOOOOOO! Well, I guess it's the least I can do… to give the family closure. Let's all hope for the best for our other friend, Wouter Jansen.
EDIT2 – More bad news, I'm afraid. Wouter was apparently mortally wounded soon after stepping out of the limo as well, and was pronounced dead just SECONDS after reaching the hospital. Rest in peace, Wouter.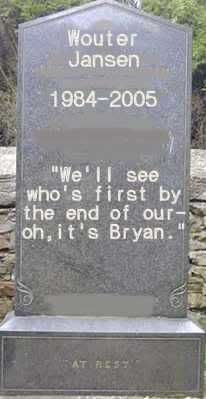 According to Cervone, who had been waiting at the hospital for Wouter's arrival, the Dutchman's last words were "I… would have died at… exact same time as Bryan and… Brandon… except my limo door… opened 0.2 seconds slower must be… PAL." A single tear fell from his eye, and he was gone.
EDIT3 – What a black day this is turning into. Much as I hate to be the bearer of bad news, I'm afraid I don't have much choice… News of Wouter's death has of course sent shockwaves throughout the online gaming community, but the tragedy has apparently hit home hardest in Jansen's home country of Holland, where his close friend and gaming partner Eise Smit has just taken his own life in a fit of grief. Fellow Dutchman Matthijs ten Ham informed me of this second tragedy, and also included a photograph of his friend's tombstone, which, apparently, has been incribed with the contents of Eise's suicide note.