Archive for April, 2006
So I'm not sure how many of you have heard of frappr.com, but I'm encouraging you guys to join the Elite's Frappr Group. The site taps into Google Maps and creates a visual display of the locations of the members in a group. It's mainly a novelty, though it enhances the demographical perceptions of your group as the number of members grows, as well as provides the capacity to zoom in obscenely close to the neighborhoods/villages/shitholes in which your friends/enemies/ex-lays reside.
It's in beta (probably constrained by the status of Google Maps), so as it stands there aren't even memberships. Just enter your name and zip code for any group and they'll plot you. Then be prepared for mods to show up at your door, brandishing brass knuckles, shouting strings of obscenities modestly sprinkled with the words "proof" and "faggot".
Yep.
*leaves for 6 months*
Don't worry, gang, everything's back to normal now! Our proud AFD tradition lives on; be sure to check out the '06 AFD Wrapup in General for a full explanation of the nicknames, and some other subtle changes you might not have noticed.
2,800 posts and a couple great reactions later, I think it's safe to say that t-e.n's AFDs are still going as strong as ever!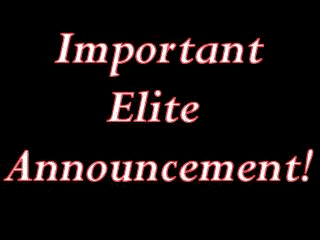 Goodness gracious… it's no sooner out of the frying pan than we're into the fire here at the-elite.net. What an insane couple of weeks! First Clark had to battle his way through all of that domain re-re-registration nonsense, which kept us offline for much longer than we had expected, then earlier today we received an e-mail which very well could have taken the Elite as we know it down for good. The creators of wouterjansen.com (do NOT click this link! I'm serious, ignorance is bliss in this case) threatened Clark with legal action if he would not comply with their demands, which were basically to remove all instances of the name "Wouter Jansen" from the-elite.net.
Apparently, the phrase "wouter jansen" is actually Swedish for "being taken from behind, by surprise, while a videocamera is rolling." Who knew?! Anyways, the guys at wj.com are upset that Googling 'wouter jansen' brings up nothing but Elite-related material on the first few pages, which is cutting into their overall web traffic something fierce. Imagine how upset you would be if you logged online fully expecting to witness some hot, barely-legal wouter jansentration, clicked 'I'm Feeling Lucky', and were instead rewarded with… pages upon pages of video game accomplishments?! Talk about your all-time turn offs!
Needless to say, we've lost no time in complying. Actually, this gave me and Clark an opportunity to do something we've been planning for a long while now- porting the standard "gaming nicknames" format seen on the Perfect Dark rankings over to the world of Goldeneye. Visually, this creates a strong sense of uniformity between the two rankings pages, IMO. The newly-nicknamed GE World Rankings can be seen at their usual location: http://www.the-elite.net/GE/elite.htm.
And as long as we were in the process of simplification (something that you'll have to admit this site has been needing for years now), we decided to go ahead and spruce up our league message boards with a few changes that have been a long time coming. Information on the new format can be found in GFFAC, but in summary, the idea is to remove the needless clutter that the GE and PD boards were drowning in while at the same time combining the strength of our General Chat and FFA boards. Also, we're taking the emphasis off GE/PD (or "the dust collectors", as I call them) to some extent, and placing it where it ought to be: square on the shoulders of Perfect Dark Zero, the booming future of our site, and the game that it seems everyone and their mother is actively competing for times in.
Change can see scary at first, but within 24 hours or so, I think we'll be able to agree that these new ideas are all for the best. Ngamer out!